How should a lawyer behave in high-profile cases? What actions do law enforcements proceed with to win a case? How does the lack of judges in the courts affect the quality of the criminal process? Heorhii Tihishvili, a lawyer in criminal law and trial and a managing attorney of the Law Firm TIHISHVILI, spoke about this in an interview with Yurydychna Gazeta.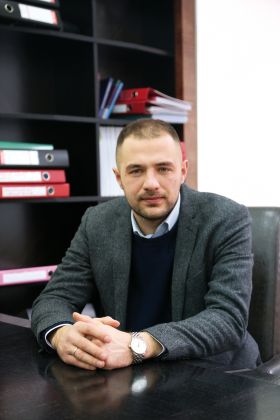 - Heorhii, tell us about your career. When did you decide to start your own company?
- I created Law Firm TIHISHVILI in 2018. Then I faced with the choice to practice law individually, in the form of a bureau or in the form of a law firm. I chose the first option, because one lawyer themselves can create it. Over time, of course there was the appearance of a need to expand and engage other lawyers to work together. Currently, I appreciate the cooperation with Heorhii Moisei, Platon Shcherba and other lawyers.
- And how long had you been working as a lawyer before that?
- I graduated from the Yaroslav Mydriy National Law University in Kharkiv in 2013, but worked as a lawyer since the third year of studying. Like all lawyers, at first it was a simple work of "bring-give-take". Nevertheless, thanks to that, I studied Kharkiv well, because there were many movements in the style of "lawyer-courier-postman."
- In your practice there are few public cases that gets the media`s attention (cases of Shaitanov, "defective" bulletproof vests, cases about drugs). What kind of challenges comes up during the process of conducting such cases?
- In fact, there are plenty difficulties. The first thing to understand is that every step is meticulously monitored not only by the media, but also by law enforcement agencies. Compared with the same non-public cases, which are not of great interest to society, and no one cares so much about their consideration, the cost of error in high-profile cases increases many times over. Therefore, you have to take every step carefully and think three times before you say or do something. This may seem like a chaos from the outside, but it is usually controlled.
- How does this happen in practice? Do you take a case that has already been published in the media outlets from the very beginning, or is everything happening gradually?
- No, at first you do not even guess about it. For example, the case of "defective" bulletproof vests. A colleague called me, said that he had received a request for legal assistance, and asked if I would represent the interests of this client. That is, apart from the need to represent the military, I did not know anything when I agreed to it. It was only after I met with the client and learned about the circumstances of the case, did I realized what situation I was in.
- It often happens that lawyers or law enforcement agencies want to involve the media for public disclosure in their interests. How was your case? Did the media pay attention to this case on their own, or did your opponents attract them?
- It happens both ways. I had a case that you did not mention yet - on "Khimprom" (a case on the activities of a "unit" of the international "drug syndicate", known as "Khimprom"). As it was mentioned at the press conference, this is "the largest gang of drug traffickers in the history of Ukraine." There were many participants in the case, many suspects, and each one had its own lawyers. There were also about 80 prosecutors and 15 investigators, because this case was very important for them, so all the media`s attention was focused on it. This experience helped me grow as a lawyer, because everything we did there was "in the red." That is, we have repeatedly said that there are some violations by the investigative bodies and the prosecutor's office, but the court ignored all this. Moreover, it was the case when the Prosecutor General's Office actively involved non-governmental organizations that came to the Pechersk Court in Kyiv and said that lawyers were corrupting the Pechersk Court in order to release their client from custody. In addition, at that time my client had the largest amount of collateral in the history of Ukraine - almost UAH 300 million. I have never met more than this.
- And when there are so many prosecutors and lawyers, how does a judge regulate this process? Does it turn into a mess?
- It was such an open fight, which is difficult to regulate. The judges were expecting reinforced concrete evidence, but there was none. Therefore, everything ended quite favorably for our client. Nevertheless, all this went on about 10 months in a rather harsh mode. All the cases after that, no matter how resonant they may be and no matter how much attention the media and law enforcement agencies pay to them, as far as it concerned the process they will not be as complicated as this one. Basically, I can say that from this very case my active practice in criminal proceedings has begun.
- Do you like resonant cases at all?
- At the first time, of course, I enjoy this resonance, but then you probably get used to it and no longer pay attention. However, I remember my first high-profile case of bulletproof vests, when there were many journalists and strangers who did not even know what they were doing there. It was interesting.
- How do you cope with public pressure in public affairs and how do you react to publications, media comments on cases?
- Now I react more calmly, but in any case, I try not to be led to provocations because there are a lot of them.
- How exactly do they provoke?
- A clear example were the provocations by the Security Serves of Ukraine in the case of Shaitanov. There was a published post stating that the "traitor general" remained in custody. Everyone understand that this is a gross violation of the presumption of innocence, because a person cannot be called a traitor / criminal until the verdict in the case. Everyone understand this, including the press service of the SSU. Moreover, they have an internal departmental rule that any statement in the media cannot be published without the consent of the head of the SBU at all. Accordingly, it was clear that the head of the SSU himself had approved this publication. We tried to challenge this statement in the legal field to the same prosecutor's office, which carries out procedural supervision and allegedly should ensure that the pre-trial investigation authorities do not violate the rights of participants in the proceedings, but they simply wrote that it is not their competence.
- So is there any point in fighting this?
- Why not? You can fight this. You can file a lawsuit and with a probability of 99% get a decision in your favor, because it is an obvious violation. But that`s about it: what will it give to my client in the process? That is, there are tools for such a struggle, but the struggle itself does not make sense.
- And how does public opinion affect the process?
- Public opinion bases according to the information that people have. Even if I get a decision in favor of my client concerning the information published against him and after that I will post it and will expand this information everywhere, any way it will not change public opinion.
- And by the way, posts such as "general-traitor" attract a lot of people?
- In the beginning, they did but now the situation is changing a little bit because the case is breaking
- Lawyer and "toxic" client. Are lawyer and his client equated in public and professional groups now?
- To my mind, it does not matter what people say but if you choose this profession, you should be ready that you will be equated with your client. Any way you will get public pressure connecting to your case when you defend your "toxic client". I have my own strategy. If I do not want to keep this process, I do not do it. However, I have never had a concept as a "toxic" or "non-toxic" client. It means there are kind of cases I would not like to keep, so I do not. But I do not think how "toxic" or "non-toxic" client is. My duty is providing a legal assistance. The better I do my job the better it would be.
- And what cases would not you like to start?
- A lot of lawyer, me either, do not want to get violent crimes that connect to the life or health attack. However, I make decision individually every time.
- According to your words, you will not defend people, who are charged with murder, will not you?
- First, you need to understand if these charges are reasonable. Each case is unique. Everything depends on whether I find a common language or whether I can work with a client. On the one hand, there are clients who come to my office as they came to a doctor, trust me, and follow all my advices. On the other hand, there are people who come and think they know how I need to work and start imposing their ideas. That is why, at first, I need to examine person who comes to my office and to understand if I can work with him.
Trust is especially important thing in my profession. In the beginning, I can never say to my client that everything would be so and so. If someone treats seriously to his work, he will never promise any guarantee that you would be given neither conviction nor pardon. Of course, there are some algorithms of actions, but the strategy forms during the late steps of the investigation when all the details are clarified, and the lawyer understands all amount of evidence. Only then, he can create any strategy and inform the client about any chances. Again, to get to thus step the lawyer need to have the client's trust. If he has any minds about how I should work, and I will say to him that it is not right, probably he will go to search another lawyer and he will say to me that we are not right for each other.
- How do you think the practice of the criminal process has changed? What are the problems?
- Nowadays there are two problems. The first one is the lack of judges and the second one is the reduction of the investigation's quality. There were a lot of reforms, staff changes, many people left, many people came. To my mind, it caused the reduction of the investigation's quality. For example, I expected a perfect cooperation from SSU in the case about Shaytanov, because it was enough serious case and serious charge concerning the person with more than 30 years of experience in the military service and 24 of them he worked in SSU. However, when the materials of the case were opened, I was disappointed regarding a lot of drawbacks and straightforward falsifications.
For example, when State Bureau of Investigation started working, the investigation and procuracy came under its control, because according to the art. 216 of the Code of Criminal Procedure, the SBI conducts all investigations of the criminal procedures concerning current workers of the law enforcements. So SSU did not have any legal rights to investigate this case. Knowing that, I was surprised why judges allowed its SSU workers to bug or to conduct any covert investigative actions. Nevertheless, when all materials of the case were opened, I understood why. Because during the opening of the case the SSU investigator said that Shaytanov had not already been the current worker of the law enforcement though that time he was. It means that the investigator frankly forged his petition.
In this case, the judge should understand who and in relation to whom can make these petitions. It means that in this case it is obviously that Mr. Shaytanov is a current SSU worker, so the SBI had to investigate his case.
- You are talking about the lack of the judges because of the recertification. What is the solution of this problem considering current situation and the complication of the recertification's procedure because of Covid-19?
- To my mind, the first thing to do is to optimize the procedure of the selection of judges, because today we have courts where there is no judge or 1-2 workers. The second thing to do is to hire a necessary number of people by simplifying the selection procedure. Of course, having simplified the selection, we can hire those people who will not correspond to the legal requirement. But it would be natural selection of staff. There would be some mistakes and decisions that after would be canceled but there are these decisions now. Now these decisions are being cancelled because one judge investigates 500 cases per year. When they have these numbers of cases to investigate, any way they will make mistakes and they must be fixed. And we are not talking about Kievsky courts. Obviously, the workload in Pechersk district court is more. Having held a judicial reform in 2016, 9 judges out of 47 judges remain, so each judge investigates 1500-2000 cases per year. Obviously, this factor influences on the quality of the work of courts at large.
- What legislative changes in 2020 have you remembered most of all? What changes do we need now?
- The inconsistent policy of the country about the formation of the anti-corruption bodies were shown the most last year. When the Constitutional Court of Ukraine approved that the nomination of Artem Sitnik as a chef of the National Anti-Corruption Office of Ukraine was unconstitutional, the CCU refined that this decision did not extend to all legal relations that were approved after his nomination. And during his coaching he had enough time to do. He appointed another people, approved a staffing table etc. While the CCU explained in its motivate part that this decision was prescribed so that not to rid an opportunity of all interested people to complain about it in total order. I do not understand at all why these decisions exist.
The procedure of the abolition art. 366-1 of the Criminal Code of Ukraine concerning the electronic declaration is the second example of the inconsistent policy. We have general rules prescribed in the Constitution and if we want to change something in our society significantly, the thing is to amend these rules and after that to specify them in special laws and in legal and regulatory acts. If the general rules were not changed but just spot changes in the field, what did we expect? The main topic to study of the Constitutional Court of Ukraine is the conformity of the special law to the general rules. It is reasonable that if special rules contradict the general ones, they should be cancelled.
I understand that we have many problems in our country, but I would like that people who understand constitutional principles as well as criminal code's logic will prescribe regulations.
- The trial bases on the concept of the adversarial parties. Is it possible to keep an equality between a lawyer and a prosecutor now?
- It is impossible to keep in the criminal process. When I had my internship, my teacher said to me: "as a lawyer, you are working against a procuracy, an investigation, a court, against all the system of the criminal justice, because on the one side is you with your rights and on the other side is criminal justice and its main goal is to bring a person to justice". It means that the accusatory bias is still the same. In fact, there is no adversarial parties in the criminal process. Of course, it is declared but I do not feel it.
- What is the most difficult thing about lawyer's profession?
- To keep silence. It is funny to say, but whatever the case, I cannot fix the investigator's work. If he gets used to do his work, even with all mistakes, so he should continue. There are no points to interfere. However, sometimes it is difficult to do when I see any imperfections or investigation's mistakes.
When I work with a client, the most difficult thing to do is to "keep distance". For example, when the client is in the temporary holding facility in the PTID of the SSU and he does not speak to anyone but you, you must overcome all his worries with him. And before pronouncement of a security measure, when the client asks you if there is a chance that he will be put under house arrest or it would be possible to pay a bail, but I understand that there is no chance, nobody will let him to go because of his accusation. To say this information to the client is the most difficult thing.
- It is known that lawyer's work takes a lot of time and energy. Do you delineate the scope of work to avoid burnout? Do you finish your work at 18:00 pm?
- No, my work does not finish after the end of the workday. To tell the truth, I envy people who finish working at 18:00pm and then can start to do their business. The bar in the criminal process is not a business, it is an activity 24/7. When I start to participate in a new case from this moment on, I permanently talk to my client, to the investigator. As a result, sometimes I talk to them more than to my family, especially during the introduction with the case files. For example, the case of bulletproof vests. According to the investigation's info, there were 85 volumes, each volume had 250-300 pages and several hundred hours of bugging that had been collected for several years. That is why the reading of that case's materials would take around 6 moths. The judge has to examine each of this evidence, that is why now even the investigation does not believe that this case will be never solved.
- Do you think about your job during your holidays?
- Yes, I do. Because it is impossible not to think. I think at least 80% of my free time about me cases, what I can do or not.
- What about your expectations for 2020? Are you optimist or pessimist?
- I am sort of optimist, but I do not expect any positive forecasts in 2021. 2020 was hard, but I think that 2021 would be harder. A lot of public institutes have been destroyed. To my mind judicial branch of power loses its independence. Because of that, it is not reasonable to expect any improvements at the national level.
- Is it possible to fix those things that have been destroyed?
- Of course, it is possible. However, the issue of reform is highly controversial. Actually, there are two ways of development. The first one is revolutionary, the second one is evolutionary. The revolutionary way is to carry out reforms when the thing to do is to break the old rules and to start new ones. It could be our way but to create something new, it is necessary to establish a new basis, I mean understandable general rules. Having them, it is possible to conduct spot changes, for example, the procedure for selection of judges, the criminal prosecution procedure. But in the beginning, everything should be set out on equal principles. If there are no formulated principles and somebody decides to reform completely any field, as a rule it is going to work.