The School of Law of the Ukrainian Catholic University in cooperation with Chicago-Kent College of Law established the School of American Law. This is a unique program in Ukraine, which allows to listen to a course of lectures from American professors and, if desired, to continue studies and obtain the qualification Master of Law — LL.M. Program in U.S., International and Transnational Law — in Chicago (USA). We talked to the lecturer of this School, Professor Olta Andoni, about how to become a lawyer in the U.S., how legal tech develops, and what skills a lawyer needs to succeed
| | |
| --- | --- |
| | Маєте Телеграм? Два кліки - і ви не пропустите жодної важливої юридичної новини. Нічого зайвого, лише #самасуть. З турботою про ваш час! |
- Olta, can you tell me about your first impression of Ukraine?
- This is my very first time in Kyiv. Previously I have visited Lviv and Odesa for my lectures. I really like Ukraine and I think Lviv is a great combination of western and eastern culture, you can see the impact of both upon visiting. Moreover, I enjoyed lecturing lawyers in Ukraine as they are always very welcome and appreciative. I think that It`s very important when you are visiting a new country to feel welcomed and appreciated as well.
- You are Professor of Law at IIT and a practicing attorney. How do you keep up with this?
- Of course, my job is very demanding. On the one hand, I do the academic part being a professor, and on the other hand, I`m an attorney by practice as you`ve already said. And I enjoy what I do. Sometimes it's a little bit too much to coordinate and to plan accordingly. But I think that in the end you must love what you do. I'm an intellectual property attorney by training, but recently I've started focusing on a new practice, on blockchain technology and cryptocurrencies. It's a very interesting industry to be in. I enjoy working with clients and guiding them through that regulatory framework.
- From a business side of things: what do you think of IT influence on the legal profession?
- Actually, in the USA we refer to IT in the law sphere as legal tech. Legal tech is the reaction to technology making impact across different industries or different sectors of the economy. Legal tech is becoming more and more global as many countries face pretty much the same challenges when it comes to their legal systems. At the same time, I think that the legal sector is one of the most resistant ones when it comes to adaptation to the legal technology. So when you try to introduce legal technology to the legal sector, of course, you are faced with more of this resistance. Legal technology is one of those very impactful technologies, not only for the legal sector but for many more. Yesterday, just by coincidence, I was reading an article about this new startup, a Harvard Law School Startup, called ArbiLex. They're starting to use artificial intelligence to settle arbitration claims and when I was reading that I was thinking "wow". That's pretty cool to be able to use legal technology or artificial intelligence to settle arbitration claims and help international litigators to use data in resolving arbitration cases.
- Legal startups – is it a temporary trend or a transformation of the legal profession?
- I don`t think it`s a temporary concept, in USA we have seen a trend of rise of legal startups and they are definitely transforming the way how the legal sector operates in USA. Law firms are global right now. They're working with clients from different countries, different areas, so this impacts the level and the quality of the services to meet client's needs. I think that now clients, especially in the US, are looking for lower costs, better and quicker services, greater transparency. Greater transparency meaning that the majority of all this legal information now is available online. Before they were not.
- Which areas of legal tech law are currently the most developed in the US? In your opinion, what kind of legal tech services will be in demand soon?
- That's a great question. I think that it's hard to determine which kind of legal tech is going to be in high demand. I think all of the previously mentioned technologies are going to be very impactful to the legal sector. But if I were to pick the most impactful technologies to the legal industry in USA in my opinion are artificial intelligence, analytics and blockchain. Furthermore, I think this also depends on the size of the law firms, or where they are going to concentrate. Like either concentrating more on streamlining their billing, or e-discovery, or they are concentrating more on the customer experience and the quality of the services delivered.
- Could you tell about the legal education system in the United States? What does it take to become a lawyer? How long does it take?
- We have a unique model when it comes to legal education. Students should complete their undergraduate degree first in the subject of their choice. I have students that have an undergraduate degree as English majors, as engineers, sometimes even as doctors, that then later on decided to become attorneys. Some of them after undergraduate degrees continued working and then, later on, realized they want to become attorneys.
In such cases, they can go to law school and they can study for three years to be graduated as the Juris Doctor (JD). But to be accepted to law schools they are required to take the Law School Admission Test (LSAT).
It takes 3 years to finish if student studies full time, but we also have students who do it part-time, so it takes them longer. However, the majority takes fulltime studies.
In the USA, law schools are accredited by the American Bar Association. I think right now we have around 203 programs in the USA that confer a first degree in law, which is called JD degree. One of which is Chicago-Kent College of Law, where I lecture.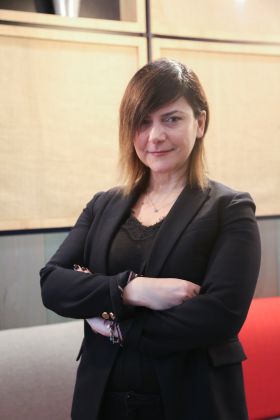 - What about LSAT? Is it about the law?
- No, the test includes a lot of areas, and tests logical reasoning, reading comprehension and analytical reasoning. There is also a writing test sample at the end of the test.
- Would a Ukrainian with a Ukrainian law degree be able to work as a lawyer in the United States? What would he need for this?
- At Chicago-Kent College of Law, we have developed a great program, School of American Law. We deliver high quality education in many regions around the world. The goal of the program is to deliver high quality legal education while promoting the idea of the globalization of law, and provide equal access to legal education for the emerging market countries.
The students usually finish their first semester in this school, and the majority of them come to Chicago-Kent to finalize their second semester. After finishing a School of American Law they have an opportunity to pass the bar exam and become an attorney. In the USA to become an attorney after you finish studies you have to take a Bar exam, and every state has its bar exam. So because Chicago is in Illinois students can take an Illinois bar exam after only one semester of studies, and also a New-York bar exam after two semesters.
- If you don`t pass this exam, can you try to pass it again in another state?
- Yes, of course. You can try it. There is no limited number of times to take the bar exam in one state. If you had taken the NY bar exam and you didn`t pass the first time, you can take it again. The majority of US students pass it the first time, but it's more challenging for international attorneys. Nevertheless, we have lot of international students who successfully pass the bar exam.
- Is it necessary to get technical education to work in the legal tech? What are the three most important attributes for a lawyer to have if they want to work in such sphere?
- I think that nowadays it's very important for attorneys and lawyers to have some technical skills. And in the USA there is a big debate whether lawyers should learn to code or not. There are some lawyers who come from an engineering background and they know how to code. And I'm not saying that every lawyer should learn how to code, but I think It's important for lawyers to at least have some basic coding skills. Because right now with all the legal tech and all these areas that I previously mentioned I think It's going to be beneficial to an attorney to have some legal technology skills. And in regards to the attributes, I always emphasize to my students that as attorneys you have to be open-minded, determined, and have the desire to learn.
- Where can these skills be acquired? As for you, what legal school is the best one?
- First of all, in the United States, we have several law schools and we have rankings, I'm very proud of my school. Chicago-Kent, College of Law, because right now it's in the top two law schools when it comes to legal services, innovation, and technology. We also are number one for our IP program and we are the only school to have earned the A+ ranking for labor and employment law as well. Another fan fact – Chicago-Kent is the oldest law school in Illinois and of course offers an exceptionally forward-looking curriculum. We have great professors as well. Something very beneficial to our students is that we also offer legal clinics. The concept of it is to use experiential learning in a law firm setting, but at the same time helping the students earn those skills that they are going to use in their daily practice after they graduate from law school. We offer these clinics to provide our students with more practice-based legal education.
- You are a teacher of the several modules of the School of American Law in Ukraine. What are your modules about? What can students learn from your modules and what skills can they improve?
- I lecture Antitrust Law and Introduction to American Law. I love both subjects and I think that both subjects are very beneficial to the students. At the age of internationalism or age of globalization, if you want to work as a lawyer you should potentially be able to work even with clients from different countries. So all these subjects help students to understand and to gain these skills.
Antitrust law is also a very interesting subject. I think it's very beneficial to my students because in Europe (or in your country) you refer to antitrust law as competition law and pretty much the concept is the same. However, this class introduces the students not only to the basic concept of antitrust law and our institutions or agencies which enforce it but also introduces some differences between antitrust law and competition law. Even though they are pretty much similar there are some differences. For example, what I like to emphasize to my students, the most significant one is the different attitudes that the European Union and US agencies have. Also, antitrust law for example in the USA provides for criminal sanctions but competition law in Europe doesn't apply criminal sanctions. So there are some differences that are interesting, but of course, the main goal for the students is to learn about US antitrust laws.
- How could you assess the level of expertise of Ukrainian lawyers?
- I found Ukrainian lawyers to have good communication skills, analytical skills and perseverance. All very important skills for a lawyer. And the level of expertise in their specific practicing areas was quite good.
- If you could give one piece of advice to law students, what would it be?
- I have two daughters and one of them is in college right now. Every day I gave them the following advice: You never know, until you try. And I would give the same advice to all law students. I think that every single law student has the ability to succeed. They have to start branding themselves and by branding themselves they have to establish that area of practice where they want to concentrate. I mean to distinguish themselves from others and becoming experts in that specific area. And the other advice I always tell my students – never burn bridges. When at work, in school or elsewhere. Because you never know, maybe tomorrow, when you start another job, you can work with this person again. That's why you should never burn any bridges.
- Which books (fiction and non-fiction) would you recommend to our readers?
- My favorite fiction books are "To kill a Mockingbird" by Harper Lee and Anna Karenina by Leo Tolstoy. And my favorite non- fiction books (which are many are are: Flourish: A Visionary New Understanding of Happiness and Well-Being by Martin E.P. Seligman; Outliers by Malcolm Gladwell and The Righteous Mind: Why Good People Are Divided by Politics and Religion by Jonathan Haidt. And if your readers would like to learn about blockchain I would recommend: The Basics of Bitcoins and Blockchain by Antony Lewis and The Internet of Money by Andreas Antonopoulos.